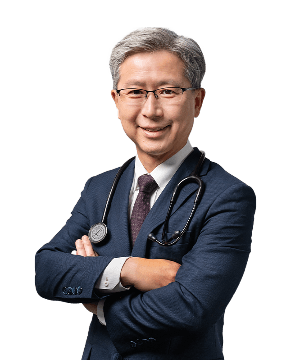 dr. Koh Hau-Tek
MB BCh BAO Hons (Ireland), B.Med.Sci. (Ireland), GDFM (S'pore), GDOM (S'pore), MRCS (Ireland), M.Med. (in surgery) S'pore, AMP (S'pore/USA), MBA (S'pore)
Chief Medical Officer
Medicine is not only a science; it is also an art. It deals with the very processes of life, which must be understood before they may be guided.
As CMO (Chief Medical Officer) at GWS Era Medika Clinic in Indonesia, dr. Koh is in charge of expanding the medical group's services and facilities. Previously, he was the Deputy Chief Medical Officer of Jiahui Health in China.
At the time, he was in charge of clinical services oversight, as well as clinical product development and operations. He was also a member of Jiahui's privileging and credentialing committee, which set and managed clinical standards, the medical executive board, medical policy, and chaired the vaccine and clinical products committees.
He has been a practicing physician for over 20 years and has worked in numerous well-known and public-listed medical groups in Singapore and the UK/Ireland. He formerly worked as the General Manager of Raffles Medical Group China. He was in charge of its healthcare assets' operationally and achieved clinical excellence and financial sustainability for its China assets across 6 major cities under his purview. Before that, dr. Koh was with Parkway Shenton as Vice-President of Clinical Services, where he was actively involved in various B2B and B2G projects to enhance clinical services.
dr. Koh has strong interests in General Surgery, Family Medicine, and Occupational Medicine and has been working in both Healthcare Management roles with active clinical practice.